Full Time
Category: Senior Teaching Staff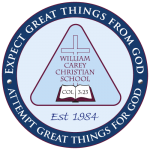 Website William Carey Christian School
Expect great things from God, attempt great things for God.
William Carey Christian School (NSW) are seeking an excellent Christian educator for the role of Dean of Students, focussing on Years 7-10 to assist in the leadership of the High School through efficient and effective management of students, focussing on wellbeing and pastoral care. This position will work closely with the Senior Executive to support the strategic direction for the school both internally and externally as they support student wellbeing and learning.
William Carey Christian School (WCCS) is a Prep-12 school of over 1200 students located at Prestons, which is nine kilometres south-west of Liverpool. The School has modern facilities, spacious grounds and an excellent reputation in the local community.
WCCS is committed to transforming lives by the proclamation of the Gospel and the delivery of an excellent, Christian education; accessible to the whole community.
For full job description and application process, please visit the WCCS website.
Applications close Monday, 13th September at 9:00 am and must include a cover letter and the Teaching Application Form found on our website. Applications will be sent to boardmanp@wccs.nsw.edu.au
Please do not apply through Christian Jobs Australia.