Part Time
Category: Support Staff – Education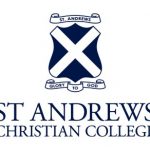 Website St Andrews Christian College
St Andrews Christian College (VIC) is a Prep to Year 12 independent Christian school located in Wantirna South.
We are seeking to appoint a Study Period Supervisor to support those students who have Study Periods in the Library during the school day. This role is important in providing assistance and study strategies to help students with their work. The need to engage with students and build positive rapport is of utmost importance.
Working during school term time only, with additional time for staff meetings and professional development, this position will commence as soon as possible. This is a fixed term position with the potential to extend.
Acceptance and adherence to the College's Statement of Belief is an essential condition of employment.
Position Description:
Please refer to the Position Description for full position requirements.
Applications Must Include:
·         A covering letter
·         Completed Non-Teaching Application Form available here
·         Current CV
·         Evidence of WWCC
·         Covid-19 Vaccination as per Government requirements
Please forward applications to Ms Sharon Swalling at employment@standrews.vic.edu.au.
Applications close 5:00pm Friday 5th August, 2022.