Full Time
Category: Support Staff – Admin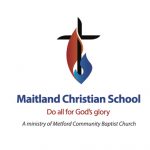 Website Maitland Christian School
Maitland Christian School (NSW) is a growing School of 520 students from Prep to year 12. With a newly released strategic plan for the next 5 years and a master plan to see our School launch into the next decade we are looking for staff to join the team who are excited for the future.
About the role
Applications are invited from Christian administration professionals for the position of Office Supervisor.  This is a full-time equivalent role commencing as soon as practicable. This role requires a people person to effectively lead the Front Office of the School, playing a key role in customer service and hospitality to the broader School community.  APPLICATIONS MUST BE MADE THROUGH OUR WEBSITE AT: https://www.maitlandcs.nsw.edu.au/contact-us/employment/
Benefits and perks
Maitland is a fantastic place to work! Located a 45 minute drive from the beaches of Newcastle and close to the gorgeous Hunter Valley our School is perfectly positioned for those who are looking to move to take on a new role and live a better life in an affordable area. There are excellent opportunities for personal growth at the School with an opportunity to make a real difference and discuss flexible working arrangements.
Skills and experience
Skills, experience and characteristics:
Modelling Christian leadership and promoting the school and Christian education.
Provide leadership and direction to the Front Office team.  This team currently includes a Front Reception, Student Reception, and Administrative Assistant, with support from the Enrolment Officer.
Provide exceptional customer service and hospitality from the front reception.
Maintain the School student roll.
Committed Christian actively involved in a Church.
Committed to the principles of Christian Schooling.
A heart to see the whole team and organisation succeed.
Ability to plan, organise and prioritise work of self and others in a demanding environment.
Ability to utilise sound independent judgement and initiative in fulfilling responsibilities.
Ability to respect and maintain confidentiality.
Ability to establish and maintain effective interpersonal relationships and effectively communicate using tact, patience and courtesy in a manner that reflects positively on the School.
Accuracy and high attention to detail.
Computer literacy with experience in word processing and spreadsheets.
Willingness to continue to learn and grow.
Hold a current First Aid Certificate
Experience in School Management Systems.
Knowledge of standard record keeping, filing systems and procedures.