Part Time
Category: Other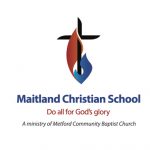 Website Maitland Christian School Maitland Christian School
Maitland Christian School, NSW
About the role
The objective of the Science / Chemical Safety / Art Assistant is to provide assistance to the Science and Visual Arts classes as well as including an allocation of time for the management of the school's Chemical Safety procedures.
The position is a part-time one with a 0.7 FTE (full-time equivalent) but could be split should the available applicants not be able to cover the skill base for both areas adequately.
For more information contact jobs@maitlandcs.nsw.edu.au
Salary
Salary will be in line with NSW Christian Schools General Staff MultiEnterprise Agreement 2020-2023 at the level of responsibility and experience of the successful applicant.
Selection Process
Following the close of applications, the Selection Committee of the School will consider applications and prepare a short list of candidates for interview. It is expected that at least one round of interviews will be undertaken.
Key Responsibilities
Assisting with organising materials in the Science laboratory and Art areas
Assisting teachers with the preparation of class materials
Assisting with cleaning and tidying classrooms and preparation rooms
Assisting with ordering stock for the faculties oversight and management of the school's Chemical Safety Procedures
The school's secondary department is currently double stream year 7-12 with at least two Science classes in each of the Years 7-10 cohorts and Biology, Chemistry and Physics classes in each of the school's Year 11-12 cohorts. Art classes are held from K – 6 and are compulsory for year 7 & 8 students with 6 classes running across the two years. There are also Visual Arts Elective classes in years 9 & 10 as well as senior years 11 & 12 classes.
The successful candidate would be required to have successfully completed a Certificate III – Lab Skills (or equivalent), or be willing to complete in their first year of employment in this role. The School will contribute to the cost of the Certificate but the study must be completed outside of employed hours and the course and study time will not be paid for by the School.
Essential & Desirable Characteristics
Be a committed Christian actively involved in their local church
Be committed to the principles of Christian Schooling, subscribe to the School's Statement of Faith, and actively support the Purpose and Strategic Intentions of the school.
Have (or be able to obtain prior to commencement) appropriate Working with Children's Check clearances and able to operate in a child safe policy framework
Be able to give practical support to a quality teaching environment based on distinct Christian perspectives
Actively support an environment where students are developed physically, academically, spiritually and socially
Be well organised and able to function as a member of a team
Have an understanding of the needs of curriculum in the Science and Visual Arts faculties
Have successfully completed a Certificate III – Lab Skills (or equivalent), or be willing to complete in their first year of employment in this role
Be prepared to be involved in the extra-curricular life of the school