Full Time
Category: Primary Teacher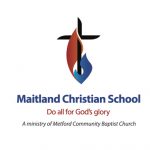 Website Maitland Christian School Maitland Christian School
Maitland Christian School, NSW
About the business
We have an exciting vision for our school! Have a look here at: https://www.maitlandcs.nsw.edu.au/our-story/
Maitland Christian School is a growing School of 540 students from Prep to year 12. With a newly released strategic plan for the next 5 years and a master plan to see our School launch into the next decade we are looking for staff to join the team who are excited for the future.
About the role
Applications are invited from suitably qualified and experienced Christian educators for the position of Stage 1 Primary Teacher. This role commences in Term Three 2021.
Apply online at: https://www.maitlandcs.nsw.edu.au/contact-us/employment/ Applications received through Seek will not be considered. Applications MUST be submitted via our website.
Benefits and perks
Maitland is a fantastic place to work! Located a 45 minute drive from the beaches of Newcastle and close to the gorgeous Hunter Valley our School is perfectly positioned for those who are looking to move to take on a new role and live a better life in an affordable area. There are excellent opportunities for personal growth at the School with an opportunity to make a real difference.
Skills and experience
A committed Christian actively involved in their local church.
Preferred experience in teaching classes within Stages 1-3. New graduates are welcome to apply.
A commitment to work with and within a collaborative team environment.
A passion for transformational Christian Education, integrated into curriculum and delivered in a framework with an increasing missional focus.
The ability to operate within a strengths-based quality teaching framework based around Explicit Direct Instruction.
Well-developed communication, administration and interpersonal skills.
A willingness to learn, grow and be coached in quality Christian Education.
Passion, heart and capacity to make a difference in young people's lives.
Living out a strong bible based faith in line with the School's foundational beliefs.