Full Time
Category: Other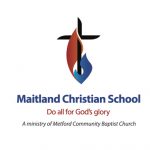 Website Maitland Christian School Maitland Christian School
Maitland Christian School, NSW
About the business
We have an exciting vision for our school! Have a look here at: https://www.maitlandcs.nsw.edu.au/our-story/
Maitland Christian School is a growing School of 520 students from Prep to year 12. With a newly released strategic pan for the next 5 years and a master plan to see our School launch into the next decade we are looking for people to join the team who are excited for the future.
About the role
Opportunity to work with a very successful marketing team that has overseen strong above sector growth during a very challenging period of time within the last 12 months. This is a fun role and opportunity for professional growth working in a collaborative energetic team supported by a strong marketing and community relations budget.
Applications are invited from suitably qualified and experienced Christian marketers for the position of Marketing & Community Relations Officer. This is a full-time equivalent role commencing as soon as practicable. APPLICATIONS MUST BE MADE THROUGH OUR WEBSITE AT: https://www.maitlandcs.nsw.edu.au/contact-us/employment/
Benefits and perks
Maitland is a fantastic place to work! Located a 45 minute drive from the beaches of Newcastle and close to the gorgeous Hunter Valley our School is perfectly positioned for those who are looking to move to take on a new role and live a better life in an affordable area. There are excellent opportunities for personal growth at the School with an opportunity to make a real difference in an environment with strong values.
Skills and experience
Modelling Christian leadership and promoting the school and Christian education.
Marketing and promotion of Maitland Christian School.
Develop and maintain community relations and development programs
Plan and oversee whole school community events.
Oversight of all Maitland Christian School publications.
Develop and maintain an Alumni program.
Organising preparations for the Maitland Christian School 40th anniversary celebrations.
Committed Christian actively involved in a Church.
Works well in a team environment.
Works well one on one and in group settings in the community.
Able to liaise with church and business community.
Keen to work with and motivate volunteers.
Confident Public Speaker.
Computer literacy with experience in word processing, spreadsheets and use of databases.
Strong writing skills.
Displays initiative, common sense and the ability to problem solve.
Photography and video editing skills.
Experience in the use of email marketing software.