Full Time
Category: Teaching Staff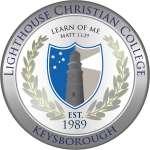 Website Lighthouse Christian College - Keysborough Lighthouse Christian College - Keysborough
The Christian choice for excellence in education
Lighthouse Christian College (VIC)
ABOUT US
Lighthouse Christian College (VIC) is a fast growing co-educational ELC to Year 12 School situated in Keysborough.  Our mission is 'to assist Christian parents to teach and train their children in a Christian teaching and learning environment, so they will fulfil God's plan for their lives, and bring this positive influence on our society'.
Founded in 1989, the College has earned a reputation of being the Christian choice for excellence in education. It has also recently been recognised for having the highest rating for student relational proximity across schools in both Australia and the UK by Dr Rob Loe, founder and director of Relational Schools.
For more information about Lighthouse Christian College – Keysborough and our associated campuses, please visit our website www.lighthouse.vic.edu.au
ABOUT THE ROLE
The role and function of a Learning Support Teacher at lighthouse Christian College is to:
Carry out professional duties and to have responsibility for teaching and supporting, both directly and indirectly, students with additional learning needs,
1.      Be responsible for the day-to-day work and management related to the identification, support, intervention and monitoring of students with additional needs and the safety and welfare of the students, during on-site and off-site activities, to promote the aims and objectives of the College,
2.      Monitor and manage the NCCD aspect of students with additional needs and ensure that NCCD requirements in relation to those students are up to date.
3.      Work within the College policies and maintain its Christian philosophy of education with a clear foundation of a biblical Christian worldview.
To request a position description, please send an email to ikemi.ivara@lighthouse.vic.edu.au
The Lighthouse Christian College Application form can be completed via this link: https://form.jotform.com/220758674310052
The following are the key criteria for this role:
·       Current WWCC and valid Police Check (mandatory)
·       Qualified teacher status with VIT
·       A degree including educational qualification (Mandatory)
·       Full COVID vaccination status (mandatory)
To apply, email your current resume and cover letter addressing the position description criteria to Ikemi Ivara at ikemi.ivara@lighthouse.vic.edu.au
Closing Date: 5:00 pm on Friday 27 May 2022.