Full Time
Category: Deputy/Campus Principal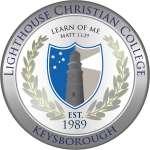 Website Lighthouse Christian College - Keysborough Lighthouse Christian College - Keysborough
The Christian choice for excellence in education
Deputy Principal
About Us
Lighthouse Christian College is a fast-growing multi-campus ELC- Year 12 co-educational independent school situated in Keysborough, Victoria. The mission of the College is to assist Christian parents to teach and train their children in a Christian teaching and learning environment, so they will fulfil God's plan for their lives, and bring this positive influence on our society. Founded in 1989, the College has earned a reputation of being the Christian choice for excellence in education. It has also been recognised for having the highest rating for student relational proximity across schools in both Australia and the UK by Dr Rob Loe, founder and director of Relational Schools Project.
Role Purpose/Position Summary
The Deputy Principal will support the Principal in providing both strategic and day to day leadership of all aspects of the College. The Deputy Principal will be a member of the Executive Team and report to the Principal on the educational and operational leadership of the College. The Deputy Principal will also be delegated to exercise direct responsibility in the areas of organisation and management. Whilst the primary responsibilities of the position are articulated, it is expected that the incumbent will engage with the wider College community and participate fully in events and activities, playing an ambassadorial role as a senior representative of Lighthouse Christian College.
A Position Description including KPIs and requirements can be found via the job advertisement on the College website at www.lighthouse.vic.edu.au/employment
About You
We are looking for candidates who know the call of God on their lives and who are passionate about Christian education, that are authentic with a strong personal presence, poise, and natural capacity to inspire students, staff, and stakeholders with the confidence to engage with parents and who are articulate and engaging with a personal warmth that engenders mutual respect and builds commitment to the College. This role requires someone who is intellectually and emotionally intelligent and guided by a strong ethical framework and who is morally courageous and judicious in decision-making. You must be driven to achieve the best student outcomes for the College and a collaborative team player balanced with the ability to be decisive and directional where situations demand.
To apply, email your current resume and cover letter addressing the position description criteria in word or PDF format, along with the Lighthouse Christian College Staff application form (available via the ad on the College website) to Andrew Cavanagh at Andrew.cavanagh@lighthouse.vic.edu.au
Applications close: 5:00 pm Friday 1 October 2021
We are a Child Safe employer, with a zero tolerance for child abuse.
VIT registration is mandatory for all teaching staff