Full Time
Category: Secondary Teacher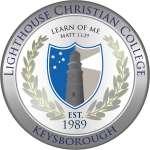 Website Lighthouse Christian College - Keysborough Lighthouse Christian College - Keysborough
The Christian choice for excellence in education
Lighthouse Christian College – Keysborough, VIC
VCAL Teacher – 2022 Start
ABOUT US
Lighthouse Christian College is a fast-growing co-educational ELC to Year 12 School situated in Keysborough.  Our mission is 'to assist Christian parents to teach and train their children in a Christian teaching and learning environment, so they will fulfil God's plan for their lives, and bring this positive influence on our society'. Founded in 1989, the College has earned a reputation of being the Christian choice for excellence in education. It has also recently been recognised for having the highest rating for student relational proximity across schools in both Australia and the UK by Dr Rob Loe, founder and director of Relational Schools. For more information about Lighthouse Christian College – Keysborough and our associated campuses, please go to our website www.lighthouse.vic.edu.au
ABOUT THE ROLE
Due to the staff changes at the College, a vacancy exists, starting in Term 1 2022, for a passionate VCAL teacher. This is a full-time role covering the major elements of the VCAL teaching component. A background and qualifications reflecting this emphasis is therefore essential for this role.
A copy of our VCAL Teacher's Position Description can be found here or via the employment section of the College website.
ABOUT YOU
We are looking for candidates who know the call of God on their lives and who are passionate about Christian education, that are authentic, with a strong personal presence, poise, and natural capacity to inspire students and who are articulate and engaging with a personal warmth that engenders mutual respect and builds commitment to the College. It requires someone who is not only a skilled secondary teacher but that is also passionate about their subject matter. You must be driven to achieve the best student outcomes for the College and be a collaborative team player.
To apply, email your current resume and cover letter addressing the position description criteria in Word document, along with the Lighthouse Christian College Staff application form (available through the following link or via the Employment section on the Lighthouse Website), to Andrew Cavanagh at Andrew.cavanagh@lighthouse.vic.edu.au
Closing Date: 5:00 pm on Friday 1 October 2021
We are a Child Safe employer, with a zero tolerance for child abuse.
Current VIT Registration is mandatory for all teaching staff.