Full Time
Category: Deputy/Campus Principal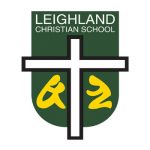 Website Leighland Christian School
The Board of Leighland Christian School (TAS) is calling for "Expressions of Interest" from experienced and talented Christian educators for the position of Head of Primary at the Ulverstone Campus of Leighland Christian School.
Description:
Leighland Christian School is situated on the beautiful North West coast of Tasmania.  It is a Kinder to Year 12 School of 600 students on two campuses, one situated in Ulverstone and the other in Burnie. This is an exciting opportunity at the Ulverstone Campus to be part of a leadership group which is looking to guide a strongly established Christian school into the next stage of its development.
Leighland Christian School is a member of Christian Education National (CEN), an Australia-wide group of schools where parents and teachers work in collaboration to prepare their children to serve God and their neighbours in the world, according to the gifts God has given them.
Commencement:
January 2022, or earlier by arrangement.
Requirements:
The applicant should be able to demonstrate in their expression of interest that they are:
A committed and passionate follower of Jesus Christ.
A visionary leader with a heart for and a clear understanding of Christian Education.
Committed to building and sustaining educational progress for all students.
An experienced and successful leader in a Kinder (Prep) to Year 6 environment.
A relational leader with team building and mentoring skills.
Able to work with enthusiasm and energy as part of a senior leadership team.
Experienced in understanding the diverse educational needs of students
A competent, professional manager who can advise the Principal about staffing and planning
Accountability:
The Head of Primary is appointed by the Board of Directors and is directly responsible to the Principal of the Ulverstone Campus for the Christian culture and educational outcomes of Kinder to Year 6.
Application details:
Please send an "Expression of Interest" – including a resume, reflections on the demonstrated requirements as noted above and the names of three referees (two professional, one pastoral) to the CEN consultant assisting the school, Yvonne Bradley, via the Consultancies Administrator, melinda.storm@cen.edu.au by 5pm Monday 12 July 2021.
Attached:
Position Description Package (includes Statement of Faith, Educational Creed, Working at Leighland, Base Teacher Statement)