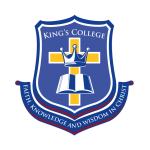 Website King's College
King's College Warrnambool (VIC) is seeking to employ teachers with the following methods or combination of methods for positions, commencing Term 1 2023:
·      VCE Business Management
·      VCE Legal Studies
·      VCE Physical Education
·      VCE Health and Human Development
·      VCE Mathematics
·      VCE Physics
The ability to teach combinations of these subject across Year 7 to 12 would be an advantage. Roles can be part-time or full-time, and ongoing for the right applicants.
King's College is an ELC to Year 12 Christian independent school located in the coastal city of Warrnambool in south-west Victoria. The College is a member of Independent Schools Victoria and Christian Schools Australia. The College was founded in 1986 by the Presbyterian Church and seeks to appoint staff who are passionate about education, with the highest professional skills who actively support the Christian teachings and values of the school. This will be visibly demonstrated through an active Christian faith demonstrated through a Biblical worldview that demonstrates the College values of faith, excellence, integrity, respect, perseverance, and humility.
All staff must also be committed to a culture that supports and embraces Child Safe Standards.
Applications close on 4 August 2022.
For more information and a position description visit the employment section of the College website.