Full Time
Category: Early Childhood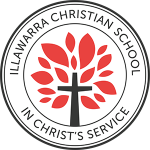 Website Illawarra Christian School
Illawarra Christian School
ABOUT ILLAWARRA CHRISTIAN SCHOOL, NSW
Illawarra Christian School is a Prep-Year 12 co-educational Christian school located in Cordeaux Heights, ten minutes from the centre of Wollongong. It is a vibrant learning community where every student is cared for in a positive and dynamic environment. In partnership with parents, we equip our students to be inquiring and discerning life-long learners.
We employ highly skilled, innovative, and passionate teachers who are excited about opportunities to continually grow in their ability to support and extend the learning of all students in their classes. The school has a diverse student population, a strong sense of community and strong academic record. With a strong focus on effective teaching and learning, our experienced and dedicated Christian staff are committed to providing quality education where the word of God is taught faithfully, a biblical worldview is integrated into all aspects of school life, and where students are thoroughly equipped to serve Christ.
ABOUT THE ROLE
The Prep Director will provide both strategic and day-to-day leadership of Illawarra Christian School Prep. The Prep Director is part of the Prep-6 leadership team.
Prep learning outcomes and philosophy are based on the Early Years Learning Framework, which is a play-based national early childhood curriculum. Within this framework, our Prep is a safe and caring environment where an understanding of the Bible is foundational to teaching programs, relationships and the effective development of the whole child. As a Prep-12 school, at Illawarra Christian School, Prep plays a pivotal role in providing the foundational years of a child's educational journey.
The Prep Director is responsible for embodying the vision and mission of the school, sustaining a strong biblical focus, and enhancing parent and community engagement. The successful candidate will be expected to provide the highest level of customer service to the school community and actively promote the school in a positive light.
This position plays a pivotal role in contributing to the spiritual growth of students, staff and the wider community. The successful candidate will be an active member of a Christian church, and will also be able demonstrate suitability for this role according to the criteria set out in the position description.
Questions about this role?
Contact Melinda Vidler (Principal's PA) on 4239 5200.
For further information (including a position description), and to apply, please visit Illawarra Christian School.
Applications close Monday 6th December 2021.