Full Time
Category: Secondary Teacher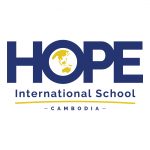 Website Hope International School Hope International School
Hope International School
HOPE International School, Cambodia is a vibrant, nurturing school community with a vision to see students impact the world for Christ. HOPE International School exists to support missionary and Christian expatriate families from over 20 countries, working with the people of Cambodia and surrounding regions.
Our Phnom Penh Campus is currently seeking a qualified Secondary History Teacher to join our team starting August 2022 .
Qualifications:
Bachelor of Education, or Bachelor Degree in relevant major subject(s) with Postgraduate Diploma in Education
IB/ IGCSE experience preferred
Teaching and classroom experience/training required
Overseas/Cross-cultural experience preferred
Open to teach other subjects
Benefits:
Living Allowance
Health insurance
Paid time off, holidays, and sick time
Financial support for professional development
Tuition discounts for staff with children
If you are passionate about teaching, and working with children and adolescents excites you, we would love to get to know you.
For our salary structure and benefits please click here.
You are welcome to complete the application for employment.
Contact us at recruitment@hope.edu.kh now to find out more about this exciting opportunity! Applications for this position will remain open until the position is filled.