Full Time
Category: Other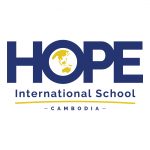 Website HOPE_School_KH HOPE International School Cambodia
HOPE International School Cambodia
HOPE International School, Cambodia has the following positions available for qualified and passionate teachers. Apply today! August 2021 Vacancies Phnom Penh Campus Teachers:
Art Teacher
Teacher Librarian
PE & Additional Subject Teacher
Secondary Mathematics Teacher
Secondary English Teacher
Secondary Science Teacher
Administration:
Campus Principal (Academic Lead)
Student Wellbeing Coordinator (Counselor)
HOPE International School is a vibrant, nurturing school community with a vision to see students impact the world for Christ. HOPE School exists to support missionary and Christian expatriate, families from over 30 countries, working with the people of Cambodia and surrounding regions. Siem Reap is a beautiful city in the north of Cambodia and the home to Angkor Wat one of the Seven Wonders of the World. The HOPE Siem Reap campus is comprised of a small community of dedicated teachers and staff who have a heart to serve the educational needs of families serving in the northern reaches of Cambodia. HOPE Siem Reap embraces the diversity of students and smaller class sizes which create stimulating and creative learning environments. It is a wonderfully interactive context for students to play, learn and grow together. You have the opportunity to come and serve these amazing families by using your skills and experience. All of our staff are provided with a living allowance to cover the costs of housing, utilities and day to day expenses. More information about HOPE, the positions available and how to apply can be found on our website www.hope.edu.kh. Contact us now to find out more about these exciting opportunities!