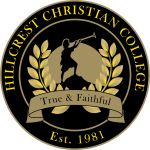 Website Hillcrest Christian College
ICT Operation Manager
Hillcrest Christian College, VIC
·       Casual role – approximately 1-1.5 days per week
·       Commencing as soon as possible
·       Modern facilities and exciting Primary Strings Program as well as individual students
CREST Education comprises two independent, coeducational schools with over 2,100 students, an Equestrian Centre and an Environmental Reserve at Clyde North. Hillcrest Christian College, established in 1981, operates from Early Learning to VCE levels. Rivercrest Christian College is an authorised International Baccalaureate Primary Years Programme (PYP) World School and is a Middle Years Programme (MYP) candidate school, with modern facilities at Clyde North. It is a growing College, adding a new year level each year; our first Year 9 classes commenced in 2022.
Hillcrest Christian College invites applications from suitably experienced Cello Tutors as part of the instrumental music offering for students, commencing immediately.
The role involves teaching small groups in the Year 2 String Program as well as individual students from Year 3 to Year 12. The time fraction is approximately 1.5 days. The Grade 2 String Program is timetabled on Wednesdays so the successful applicant would need to be available on this day.
The successful candidate is:
·       Enthusiastic and competent in providing individual music tuition
·       Motivating and inspiring to students in individual lessons
·       Able to conduct the Year 2 Strings Program
·       Confident in managing groups of students and working as a member of a team in the Strings Program;
·       Potentially available for additional work at College events e.g. school productions
Currently there are 7 hours per week of lessons being taught, with individual music tuition being 8 sessions per school term.
A classroom music teaching qualification would be an advantage but is not essential.
Benefits
Competitive salary
Free gym on site
Friendly and supportive working environment
Applicants must be able to demonstrate a genuine commitment to the Christian ethos of CREST Education.
Crest Education is a child safe employer and is committed to the welfare of children and their protection. All potential employees and volunteers will be required to comply with the College's Code of Conduct and Child Safe Policy. Applicants are required to provide a valid Working With Children Check (non-teachers) or VIT registration (teachers) and will be subject to background checking in accordance with this policy.
Apply now! Applications will be considered as they are received.
Candidates are required to complete the online application and supply a covering letter and CV.
http://careers.cresteducation.vic.edu.au/job-details/query/cello-teacher/in/australia/8692269/
Applications should be addressed to Mrs Joanne Ball, Human Resources Manager.
Alternatively, for further information, please call Joanne on 9707 7324.
www.hillcrest.vic.edu.au
www.rivercrest.vic.edu.au