Full Time
Category: Counsellor/Psychologist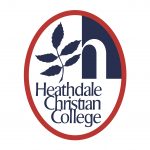 Website Heathdale Christian College Heathdale Christian College
Heathdale Christian College
Heathdale Christian College (VIC) is a thriving learning community that strives to enable staff and students to fulfil their unique God-given potential. We seek to grow each student's love for learning over their journey with us. Nurturing their sense of awe and wonder as they grow academically, personally, spiritually and through their co-curricular endeavours. Our staff work together to create an environment geared for learning that impacts the lives of each student. This culture of excellence is built through a deep desire to show initiative, to build capacity, to learn and grow so we make things better. Ultimately fulfilling God's call for our careers. This mindset is not self-serving. It arises from the knowledge that each member of staff serves a higher calling on their lives. 'To God be the glory' is not a throwaway statement for us, but rather evidence of a heart that serves God through daily work.
Position Summary:
We have an exciting opportunity for a Student Welfare Coordinator to join the Heathdale Team to provide leadership, guidance, support to the Pastoral Care Team members to enable them to work effectively together to ensure students receive the support that is required.
The College has established a student well-being department that incorporates the work of Pastoral Care, The College Nurse and Learning Enhancement. Each of these sections play a significant part in assisting the College to fulfil its commitment to the well-being of all students.
The Pastoral Care Team, provide emotional support, guidance and advice to students, staff and parents.
Benefits of working with us:
Our staff are encouraged to continue to develop and grow in their skills at the College
Work in a Christian and caring work environment
Strong support in your career
To be successful in a position, we are seeking a Student Welfare Coordinator who has:
The Pastoral Care Staff member must have suitable training in counselling, restorative practices, and theological understanding
With a minimum requirement of one of the following or equivalent
Bachelor and/or Master of Counselling, Social Work, Youth Work with industry experience
Demonstrated experience of counselling with school aged students with a key focus on Secondary aged students
Well-developed interpersonal and communication skills
Flexibility and an ability to work collaboratively
Ability to lead the team
WWCC 'E', Police Check and Covid Vaccine
Position close: 4pm, Monday 22nd November 2021
How to Apply:
Please go to the employment page to submit an application via the employment portal https://www.heathdale.vic.edu.au/employment/ For further details please contact the People and Development on recruitment@heathdale.vic.edu.au or look at our 'Employment' section of our webpage www.heathdale.vic.edu.au See what our Staff say about working at Heathdale Christian College… View Video https://youtu.be/ltmWLlAl7QI