Full Time
Category: Senior Teaching Staff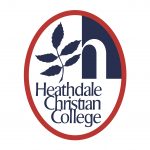 Website Heathdale Christian College Heathdale Christian College
Heathdale Christian College
Heathdale Christian College, VIC
Permanent Full Time with .2 FTE Lead Teacher component
Lead Teacher is for two years with the option to extend or reapply at the end of the two years.
Heathdale Christian College is a thriving learning community that strives to enable staff and students to fulfil their unique God-given potential. We seek to grow each student's love for learning over their journey with us. Nurturing their sense of awe and wonder as they grow academically, personally, spiritually and through their co-curricular endeavours.
Our staff work together to create an environment geared for learning that impacts the lives of each student. This culture of excellence is built through a deep desire to show initiative, to build capacity, to learn and grow so we make things better. Ultimately fulfilling God's call for our careers. This mindset is not self-serving. It arises from the knowledge that each member of staff serves a higher calling on their lives. 'To God be the glory' is not a throwaway statement for us, but rather evidence of a heart that serves God through daily work.
Position Summary:
We have an exciting opportunity for a Generalist Teacher with the ability to work across Prep to Year 9 in the specialisation of Digital Technology to join our team at our Melton campus.
This position will also hold a .2 FTE Lead Teacher component for two years with the option to extend or reapply at the end of the two years.
The Generalist Teacher will work alongside the Leadership, Teachers, Learning & Teaching Coordinators, to ensure that our teaching and learning programs for Digital Technology are supported and continued to be enhanced and developed to suit the needs of our students.
The Lead Teacher Component of this position will work with the Principal of Melton and will form part of the leadership team at the Melton campus and assisting in the effective delivery of Primary and Secondary programs (P-Year 9).
Benefits of working with us:
Our staff are encouraged to continue to develop and grow in their skills at the College
Work in a Christian and caring work environment
Strong support in your career
To be successful in this position, you will have:
Degree in Education with the ability to teach Prep – Year 9
Experience in teaching and delivering Digital Technology
Valid VIT registration
Strong verbal and written communication skillset
First Aid qualified
CPR qualified
Anaphylaxis qualified
Current Covid vaccine
Additional qualifications and experience required for the Lead Teacher component:
Degree in Education with a minimum 4 years of relevant experience
Preferred experience in the effective organisation of an educational facility.
Understanding of and/or demonstrated experience in, partnering with and engaging a diverse range of    internal stakeholders.
Demonstrate leadership skills with managing work priorities and groups to assist in the future growth and direction of the Melton campus.
Position closes 3rd December 2021 – 4:00pm
How to Apply:
Please go to the employment page to submit an application via the employment portal https://www.heathdale.vic.edu.au/employment/
For further details please contact the People and Development on recruitment@heathdale.vic.edu.au or look at our 'Employment' section of our webpage www.heathdale.vic.edu.au