Full Time
Category: Early Childhood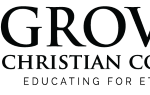 Website Groves Christian College
Groves Christian College, QLD
Are you ready to make a difference in a learning community where the expression of your Christian faith is essential to your work? Groves Christian College is a growing school that welcomes families who seek a Christian education for their children. Groves celebrates the rich diverse cultural heritage that forms modern Australia. With an E.L.C., K-12 Day School, and Trade Training Centre located across two modern campuses, and a Distance Education School which serves students throughout Queensland, Groves Christian College is well placed to educate for eternity to see students with loving hearts and strong minds for God shine like stars in their service of others.
We offer colleagues the opportunity to grow in a mentored and caring environment. Commitment to a church an the ethos of Christian education is essential. The wellbeing and vocational advancement of colleagues continues to be an integral part of our mission as we develop a healthy and sustainable ministry together. We are committed to safeguarding and promoting the safety, welfare and wellbeing of children and young people. Mandatory screening around suitability to work with children applies to every position.
Groves is currently looking for a passionate Director of Early Learning Centre, who is committed to supporting their team and exceeding the standard of Early Education.
About the role
Lead and mentor educators to achieve excellence and maintain strong professional relationships with one another
Lead and develop the team to deliver a high-quality cycle of planning, curriculum and outcomes for each child in your room
Ensure that all documentation, of children's learning, is visible and accessible to families and contains high-quality information to meet regulatory requirements
Create a friendly, secure and stimulating interactive learning environment
Maintain positive working relationships with all team members
Ensure a high level of health & safety standards are maintained at all times
Responsible for the day-to-day operation of the Centre and it's services
Ensure the Centre is compliant with all the regulatory requirements listed in the National Regulations and National Quality Standards, with the focus to provide an excellent level of education and care to the children.
About you
Diploma qualified or studying towards a Bachelors in Early Childhood Education and Care
Demonstrated experience in a similar role within Early Childhood
Practical knowledge of National Quality Standards
Passionate and committed to high quality of early childhood and education
Excellent communication skills and leadership skills
Demonstrates a passion and commitment to the faith development, vision, and values of Groves Christian College
Well presented with a professional, positive, warm, and welcoming disposition
Demonstrates high levels of confidentiality and cultivates credibility and honesty
Demonstrates a respect for and acceptance of differences in students, parents, and staff
Shows a strong commitment to deliver exceptional service
Current First Aid Certificate including Asthma and Anaphylaxis
Current Working with Children Check (Blue Card)
Knowledge of relevant legislative documents, applicable to the Early Childhood sector
All applicants must be:
an Australian Citizen or
a permanent resident or
have an appropriated permit to work in Australia
All applicants need to be able to provide
copies of qualifications, academic transcripts
a current Working with Children Check (Blue Card)
Current First Aid Certificate
The position will commence from 1st January 2022. Applicants must complete the Employment Application in the Employment section on the Groves Christian College website http://www.groves.qld.edu.au, then submit it together with a resume, academic transcripts and covering letter to the attention of the Head of Primary School at hr@groves.qld.edu.au.
Applications close Friday 12th November 2021.