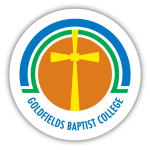 Website Goldfields Baptist College
Goldfields Baptist College, WA
Goldfields Baptist College is the only Kindergarten to Year 12 registered educational facility in Kalgoorlie-Boulder, creating a consistent pathway on a student's learning journey.  We are a multicultural, multi-denominational, co-educational school that offers a holistic Christian education.  Our learning, pastoral care and relationships are built upon a strong Christian foundation, and we are extremely proud of our working environment, which is one of unparalleled support and community.
As is captured in our Mission Statement, the College culture is one of community and support that nurtures and equips not only our students, but each person, for life.  As such, at GBC, we invest deeply into one another as colleagues, and approach all elements of our professional practice with a view to continue to collaboratively grow together.  This makes it a wonderful environment in which to flourish as a professional, amongst committed colleagues who are eager to invest into you, your personal wellbeing, and your professional growth.
Our Mission
At GBC, we are creating a flourishing educational community that is being transformed by the Truth of God's word.  We are nurturing and equipping each person for life, empowering them to be thriving contributors in the world.
Isn't Kalgoorlie really far away?
Kalgoorlie is 600km from Perth, which means a 50-minute flight, an approximately six-hour train trip, or an approximately six and a half hour drive through regional Western Australia.  Once in the Goldfields, you might be surprised at what is available in our remote city.  With a population of over 30,000, the facilities and amenities available to you are not that different to what is found in the Perth suburbs.  One of our biggest points of difference, however, is the incredibly strong community spirit, with some of the most egalitarian and down-to-Earth people that can be found anywhere, coupled with tightly knit church communities that join together regularly for combined praise and fellowship.
Opportunities
One of the many positives in working in a small school in regional Western Australia is the natural opportunity to begin your path into School Leadership.  Working in regional schools presents opportunities for staff members to try their hand at organising events, or to flourish in areas of passion, by implementing innovations and ideas, even within your first year at the school.  Additionally, there are regular opportunities for staff to begin their journey into formal School Leadership positions, without a need to attain 'seniority' amongst staff first.  GBC currently has positions vacant on the Leadership Team, so in your application for a teaching position, you can also express your interest in a Leadership position to begin or continue this avenue of your career.  Finally, small regional schools also offer excellent opportunities for flexibility in work arrangements.  Many of our staff members are parents, both with children enrolled at the College, and some with children enrolled elsewhere.  Other staff members are completing study whilst undertaking a part-time load.  There is considerable flexibility in adjusting timetables, working on preferred days, adjusted contact hours, and strong understanding of those 'drop and run' times under all kinds of personal circumstances.  Do not count yourself out of the running because you may need some flexibility in arrangements; just ask the question – you might be surprised at the answer!
Position and Requirements
This position is available up to a 1.0 FTE.  Experience in teaching Senior Secondary Science is preferred, though graduate teachers with excellent recommendations will also be considered.  Applicants will also be required to demonstrate:
·         Evidence of registration with the Teacher Registration Board of Western Australia (GBC will consider Limited Authority to Teach applications for staff who are in the process of attaining registration due to interstate relocations, etc.)
·         Valid Working with Children Check
·         Right to work in Australia
·         Engagement with GBC's Christian ethos
·         Valid COVID-19 Vaccination Certificate or Exemption
Applications for this position close at 4:00pm on Friday the 21st January, 2022.  Further details and our application form can be found on the College website at www.gbc.wa.edu.au.
GBC is committed to the protection and safeguarding of children and young people.  Applicants will be expected to satisfy and comply with the requirements of the Child Safe Standards, as specified by the National Principles for Child Safe Organisations WA.