Part Time
Category: Early Childhood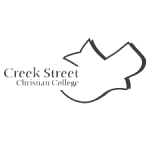 Website Creek Street Christian College
Creek Street Christian College, VIC
Early Learning Centre Teacher –  (part time commencing 2022)
ABOUT THE COLLEGE
Creek Street Christian College has been an integral part of the ministry of Creek Street Church in Bendigo since 1981.  It is an inter-denominational, co-educational Prep to Year 10 College.  An Early Learning Centre commenced in 2017 and an IB program that commenced in 2021.   The College enjoys an outstanding reputation and has experienced continuous, steady growth.   It provides a high standard of Christian Education for families through a well- balanced, innovative curriculum in a positive and caring environment.
The vision of the College is to see students equipped to impact their community, nation and the world for the Lord Jesus Christ.
Further information about the College is available on our website www.creekstreet.vic.edu.au.
ABOUT THE PERSON
Candidates will need to have a successful work history and desire to be part of a welcoming, growing and thriving regional Christian School Community.  Excellent personal and professional support will be provided.
Employees needs to be able to share the core values of the college, and have a passion for teaching in a Christian education setting. The terms of the positions is negotiable and the college will assist potential candidates in providing suitable work conditions and relocation if required.
TO APPLY
This position is  available from January 2022
Expressions of interest and applications are invited outlining clearly
1.      The role you are applying for,
2.      Your availability – FT/PT, when you can start
3.      Your resume detailing your work history, and qualifications.
4.      Your contact details – mobile and email.
5.      Your faith commitment and involvement
Applications will be treated in confidence.
Applications to be received by 9AM Friday 3rd December 2021 but may be processed prior to the closing date.
Further information is available through www.creekstreet.vic.edu.au or contact Andrew Boutros 0418755711