Part Time
Category: Other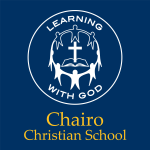 Website Chairo Christian School
Chairo Christian School, VIC
Speech Pathologist
Large multi-campus Christian school
Part-time (approx. 0.5 to 0.6 FTE) position
Three-year appointment
Job Ref: DR2116
Chairo Christian School is a non-denominational Christian school with 1,700 Kinder to Year 12 students attending five picturesque campuses in West and South Gippsland, the Latrobe Valley and the south eastern outskirts of Melbourne.
Our mission is to provide excellence in Christ-centred education in partnership with families within a caring Christian community. In doing this, we aim to prepare students thoroughly for further study, careers, service and life in general.
We are currently seeking the services of a dedicated in-school Speech Pathologist to join our Learning Support team in January 2022. This is an exciting opportunity to work in a caring Christian environment.
Key responsibilities will include:
·         providing a godly example to students and fellow staff members through their practice, manner, relationships and general lifestyle;
·         providing targeted, effective, professional learning and support to staff members and families;
·         assisting with support of literacy initiatives within the school;
·         administering and providing reports for language assessments as required;
·         developing and implementing speech therapy interventions for identified students; and
·         supporting the development of individual education plans in consultation with relevant students, families and staff members;
Having obtained relevant qualifications and experience as a Speech Pathologist, the successful candidate will also possess the following important characteristics:
·         Demonstrated commitment to the school's Statement of Faith
·         Experience working within an educational setting (desirable)
·         Experience working with young people with speech, language and communication delays
·         Ability to plan and implement a comprehensive speech pathology service to students and families in an educational setting
·         Willingness to travel to multiple campuses as necessary
·         Ability to provide a satisfactory Working with Children Check
The safety, wellbeing and inclusion of all our students is a high priority. As part of our recruitment process, Chairo undertakes rigorous reference and background checking including, Working with Children and Police Record checks. Before applying, applicants are requested to review Chairo's Child Safety booklet.
Please note, under a direction of the Victorian government's Public Health Order, staff employed at Chairo Christian School are required to be double vaccinated by 29 November 2021.
Applications for this position should be made by completing an online application and submitting this, together with your covering letter and resume, at www.chairo.vic.edu.au/careers.
The closing date for applications is Sunday 21 November.