Full Time
Category: Secondary Teacher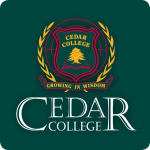 Website cedarcollege Cedar College
Discover Jesus, Display Love, Develop Self
Cedar College, SA
Cedar College is an R-12 co-educational Christian school, situated in the suburb of Northgate, South Australia, 8 km north-east of the Adelaide CBD.
For 25 years, Cedar College has encouraged students in Primary and High School to Discover Jesus – as we value Christ as the foundation for real life, Display Love – in a supportive community with genuine relationships, and Develop Self – through our high standards in education.
POSITION OVERVIEW
We are seeking an experienced High School Digital Technologies and Digital Communication Solutions (Film and Media) Teacher to join our existing teaching staff in these highly-valued subject areas. The ability to teach Middle School Mathematics will be advantageous.
Position Title: Senior School Digital Technologies and Digital Communication Solutions Teacher
Year level(s): High School (Year 11 – 12)
Commencing: 24/01/2022
Type: Permanent, Full or Part-time considered
FTE equivalent: 0.8 – 1.0 FTE
FTE Salary: Commensurate with qualifications & experience
ABOUT THE ROLE:
The successful applicant will be a teacher who has a passion for teaching these digital-based subjects across a range of levels, with the goal of maximising student engagement, learning, and outcomes.
The successful applicant will have a vibrant, growing relationship with God and be a committed member of their local church. They will be able to work effectively as part of a team in a collaborative and unified manner, and have excellent interpersonal, conflict resolution and communication skills with staff, students and parents.
They will be teachable, and committed to the vision, ethos, and strategic direction of the College.
NECESSARY QUALIFICATIONS AND CHECKS:
Approved teacher education qualification, registered as a teacher in South Australia. Applicants must hold a current Working with Children Check, and complete the RRHAN-EC training (Responding to the Risk of Harm, Abuse and Neglect – Education and Care training) and Protective Practices for Education training, prior to commencing employment.
DETAILS SPECIFIC TO THIS POSITION
Key Responsibilities:
Teaching to the Australian Curriculum and the SACE, the successful applicant will teach Year 11 and 12 Digital Technologies and Year 11 and 12 Digital Communication Products (Film and Media). The ability to teach Year 7 or 8 Mathematics would be advantageous.
The ability to incorporate a Christian World View into these subject areas will be highly valued.
The Digital Technologies and Digital Communication Solutions Teacher will work under the direction of the Design, Technology and Business Co-ordinator, in conjunction with the School Leadership.
Personal Requirements:
We are looking for a passionate teacher to be a part of our collaborative team. You will need to demonstrate a sincere commitment to Jesus Christ and the philosophy of Christian Education. Applicants will also demonstrate an active involvement in their local church and align themselves with the College's core beliefs.
APPLICATION PROCESS
An application form, obtainable by calling (08) 8261 3377 must be submitted in order to be considered.
Applications Close: 4pm, Friday November 26, 2021.
Download the Position Information Document here.