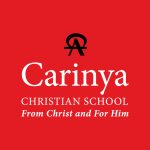 Website Carinya Christian School
Christ centred, community minded, discovery driven education
Carinya Christian School, NSW
Applications are now open for an exciting opportunity to lead Carinya Tamworth in Christ-centred, community minded, discovery driven education, commencing January 2022.
Carinya Christian School is an independent, coeducational private day school, teaching children across two campuses in Tamworth and Gunnedah, in the beautiful New England North West NSW region. At Carinya, Jesus Christ is central to the core vision of the school and our understanding of Him is imbedded in our educational practices, at every level.
Carinya Christian School Tamworth has been operating since 1984 and is situated on 30 acres in the quiet suburb of Calala, providing families with a safe and tranquil learning environment for children from the age of 3 up to Year 12.
ROLE OVERVIEW: Christian Leadership
Carinya is not a school where religious activities are an additional part of the academic curriculum. On the contrary, Jesus Christ is integral to everything we do, and the school seeks to acknowledge Him in every area of school life.
A Carinya School Principal is entrusted by the Board with the leadership of staff, students, and the wider school community in realising this primary purpose of the school. Just as subjects are taught with a view to reflect how God sees the world He has created, the School Principal leads and develops the school in a way which upholds the Christ-centred education that Carinya seeks to provide.
A primary task of a Carinya Principal is to ensure that Christian values are taught in the school with intent, even passion, and always within a framework where firstly the Creator of those values is loved and honoured by those who teach our students. In practical terms, the Principal is expected to provide Christ centred, biblical leadership in curriculum development and delivery that reflects "best practice" educational thinking, consistent with the Christian educational perspectives of the School.
It is the Principal who leads Bible studies in staff meetings, ensuring an understanding of the biblical doctrines of the first 20 chapters of the Westminster Confession of Faith and the relevance of those doctrines to the pedagogical and educational practices of the School.
> A detailed Employment Application Package, outlining key responsibilities and criteria, can be found here.
APPLICATIONS CLOSE FRIDAY 26th NOVEMBER, 2021
TO APPLY visit our website and:
1. Read the first 20 Chapters of the Westminster Confession of Faith
2. Complete the Teaching Staff Employment Application Form (Tamworth)
3. Send the form, together with your Cover Letter, Resume and any other relevant documentation to admin@carinya.nsw.edu.au.