Full Time
Category: Secondary Teacher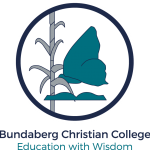 Website Bundaberg Christian College Limited
Education with Wisdom
Bundaberg Christian College (QLD) is a non-denominational, Christian day-school (P-12) seeking to offer an excellence in education within the context of a genuine Biblical framework. The College aims to encourage students to reach their highest academic potential, to fully develop their God-given gifts, to know Jesus Christ as Lord in every aspect of life and to love others as themselves. Bundaberg Christian College is seeking an innovative, enthusiastic and inspiring educational leader, to lead our Middle and Senior School. After years of outstanding service and dedication to the College, the incumbent, Mr Cameron Ivers, has accepted a call to relocate and serve another school community.
Commence: January 2022.
Role: The Head of Middle & Senior School has the primary responsibility for the leadership, stewardship, management and spiritual direction of the Middle & Senior School of Bundaberg Christian College. The purpose is to ensure that the goals of the College are effectively and positively achieved. The Head of Middle & Senior School is responsible for both the Middle and Senior Schools within the College, including student wellbeing, educational administration, operations, teaching & learning, staff and curriculum development.
Applicants who demonstrate an active Biblical faith that aligns with the College's Statement of Faith, currently being expressed in a Christian Church, are invited to apply. Applicants must also demonstrate a lifestyle that aligns with the College's religious beliefs, as well as demonstrate an ability to inspire students to embrace high standards of Christian character, scholarship and diligence.
Appointment: The appointment as Head of Middle & Senior School is for a period of five (5) years (the 'term'). Upon completion of the term, there is an opportunity to re-apply for a further five (5) years and multiple terms. A rewarding remuneration package will be negotiated with the successful applicant. A relocation allowance may also be considered. A teaching load is encouraged for the successful candidate of 0.2 FTE.
APPLY ONLINE: www.bcc.net.au/about-us/employment
APPLICATIONS CLOSE 4pm Monday 27 September 2021.