Full Time
Category: Secondary Teacher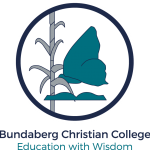 Website Bundaberg Christian College Limited
Education with Wisdom
Bundaberg Christian College (QLD) is a non-denominational, Christian day-school including an Early Learning Centre (K-12) seeking to offer an excellence in education within the context of a genuine Biblical framework. The College aims to encourage students to reach their highest academic potential, to fully develop their God-given gifts, to know Jesus Christ as Lord in every aspect of life and to love others as themselves.
Bundaberg Christian College is seeking a committed, innovative, conscientious and professional business leader, following the retirement of our long serving Business Manager of 21 years.
Commence:  January 2022.
Tenure: Full-Time position. The appointment is for a period of five (5) years, re-application for extension.
Role: The Business Manager is a member of the College Executive and reports directly to the Principal and the Board of Directors. The Business Manager has the main role of supporting the Principal in managing all areas of business administration, finance, risk management, property and facility management and development. The Business Manager has the responsibility for ensuring that the administrative and financial services of the College are conducted efficiently and ethically in accordance with established standards and such that all statutory and compliance obligations are met.
Applicants who demonstrate an active Biblical faith that aligns with the College's Statement of Faith, currently being expressed in a Christian Church, are invited to apply. Applicants must also demonstrate a lifestyle that aligns with the College's religious beliefs, as well as demonstrate an ability to inspire others to embrace high standards of Christian character, service and diligence.
Confidential enquiries should be directed to Paul Thompson, Principal by email to: paul.thompson@bcc.net.au or telephone (07) 4132 5800.
APPLICATIONS CLOSE: Monday 27 September 4:00pm.